29 Iconic Football Moments in History
29 Iconic Football Moments in History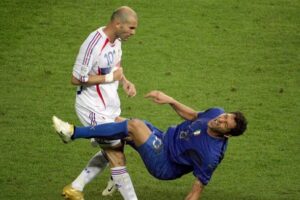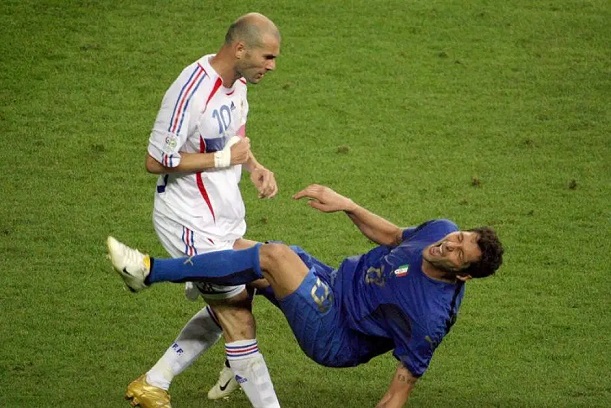 One of the beauties of football is the unforgettable moments that are passed on from one generation to another.
From illegitimate goals that were counted, to great farewells, to tragical incidents, on Live Koora website, you will know all about the 29 most Iconic Football Moments in History.
Iconic Football Moments Maradona #1: Hand of God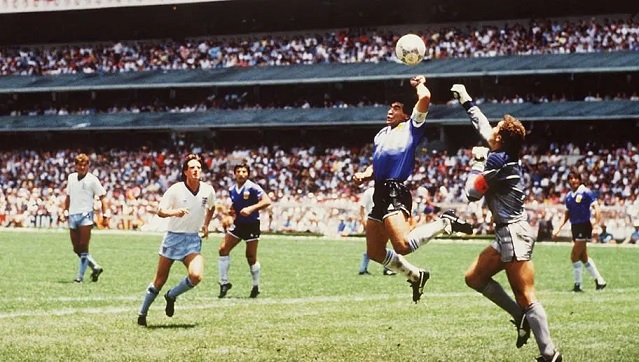 The "Hand of God" is Maradona's illegal, but counted goal in 1986 FIFA World Cup Quarter-final against England that secured Argentina's place in the Semi-finals. Argentina would go on and win the World Cup as there was no Var in football back then.
The goal is considered more than just a goal, it even inspired so many movies.
Iconic Football Moments #2: Pele Celebrates with Ronaldo Brazil 2002 World Cup Win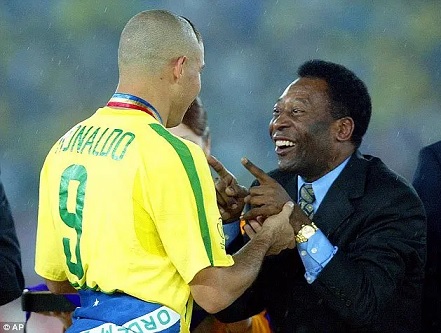 After Brazil's 2002 World Cup Win, Brazilian Football legend Pele greets then current legend, Ronaldo to celebrate their country's World Cup Win against Germany. The game ended 2-0 and both goals were scored by Ronaldo.
Iconic Football Moments #3: Manchester United before Boarding the plane of Death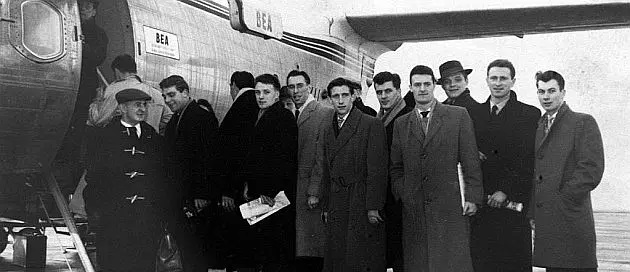 This picture was the last photo taken of Manchester United's team that were called "The Busby Babes" before boarding the plane that will seal their death in the Munich air disaster in 1958.
The crash killed almost all the players and after that, they were named "The Flowers of Manchester"
23 out of the 44 plane boarders had died in one of the biggest tragedies in the history of football.
Iconic Football Moments #4: Roberto Baggio's Finale Penalty Miss
In the 1994 World Cup, Italy and Brazil played head-to-head. The game ended 0-0, so penalties had to decide the winner.
Roberto Baggio, then star player for Italy, missed a decisive penalty and Brazil went on to win the shootout 3-2.
Baggio is one of the legendary players that did not win the World Cup. This penalty miss still haunts him and it played a big part in ending his football career.
Iconic Football Moments #5: Andres Escobar's Own Goal That Got Him Killed
1994 was the time when drug lords ruled Colombia and they invested a lot of money on Football and the stakes were high.
When Colombian defender scored an own goal that caused Colombia to be eliminated from the 1994 World Cup, he was brutally gunned down upon his return home.
Iconic Football Moments #6: Death Match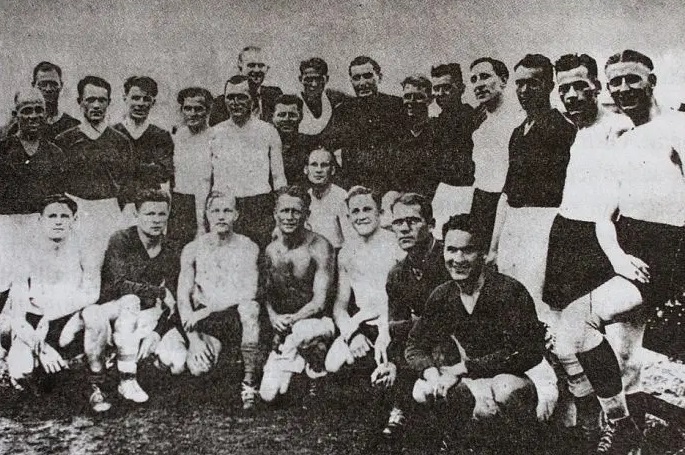 In 1942, FC Start, a Ukrainian football club consisting of players from Dynamo Kiev and Lokomotiv Kiev played against a Nazi-backed German team called Falkelf.
The match ended 5-3 to the Ukrainian side, which resulted in the arrest of 6 Ukrainian players by the Gestapo (the secret police of Nazi Germany).
This match was a tremendous event in history and it has inspired many films.
Iconic Football Moments #7: Colombian Keeper's Scorpion Save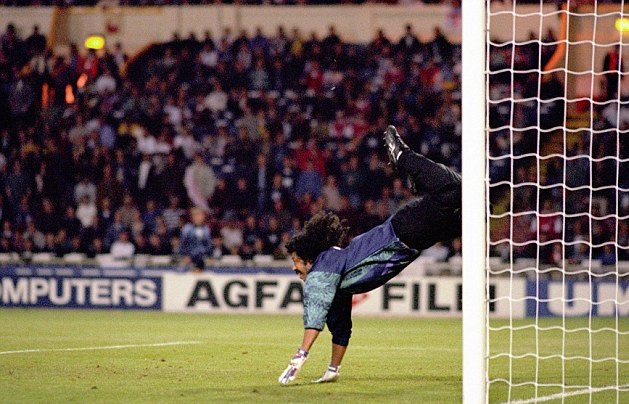 The original sweeper-keeper, Rene Higuita of the Colombian national side was known for his flair for theatrics. But, none more so than this scorpion save in Columbia's friendly against England.
Iconic Football Moments #8: Zidane Headbutts Marco Materazzi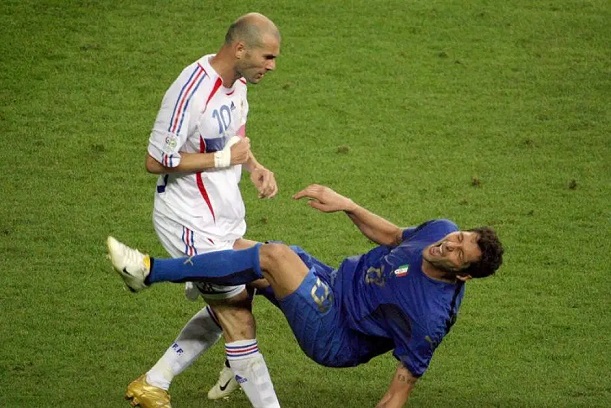 This one was built for heartaches, Zizou's last World Cup appearance when he had a real shot at taking France all the way, abruptly ended with this legendary incident. France never recovered from Zizou's loss and Italy won the 2006 Cup.
Iconic Football Moments #9: Roberto Carlos Banana Free-Kick

In 1997, Roberto Carlos scored an impossible free-kick against France. It was curved like a banana and this goal shook the world and lead to several research studies about it. Once scientists called it a miracle.
Iconic Football Moments #10: Alex Ferguson Hugs Ronaldo after EuroCup 2016 Win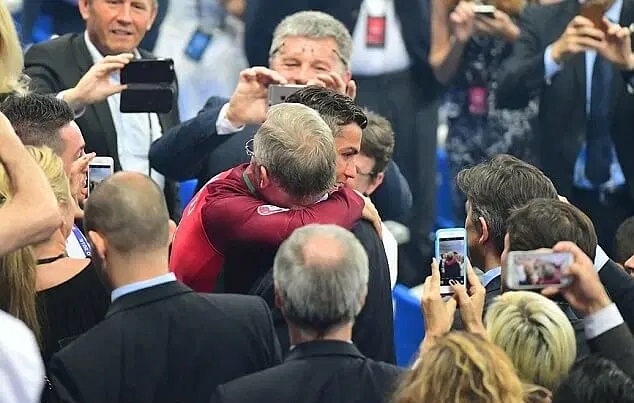 Cristiano Ronaldo always considered Sir Alex Ferguson as his Godfather. The Scottish discovered Ronaldo in 2003 and even though Ronaldo left Manchester United for Real Madrid in 2009, Alex Ferguson embraced Ronaldo congratulating him on winning the Euro Cup 2016 with Portugal, showing how strong the relationship is between the two.
Iconic Football Moments #11: Iniesta Dedicates The World Cup to Dani Jarque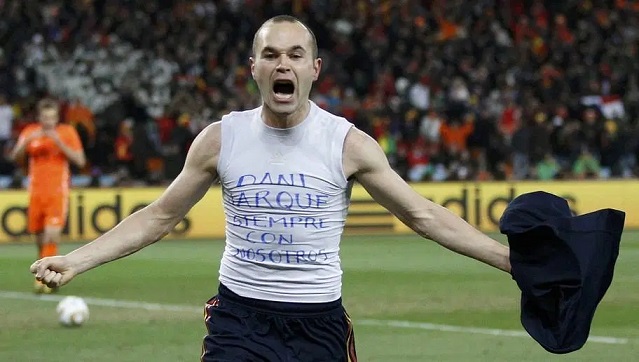 When Andres Iniesta scored the winning goal in the 2010 World Cup Final against the Netherlands, he paid tribute and dedicated the Cup to Dani Jarque, who died of a heart attack at the age of 26, prior to being named captain of the Spanish Football Team for the World Cup.
Iconic Football Moments #12: Maradona Greets Ronaldinho
Argentinian Football Legend Maradona warmly greets Brazilian football Legend Ronaldinho showing respect to his great talent. This picture is especially iconic because of the rivalry between Argentina and Brazil.
Iconic Football Moments #13: Van Persie Impossible Goal
In the opening match of the 2014 FIFA World Cup between Spain and the Netherlands which resulted in a 5-1 win for the Dutchmen, Robin Van Persie scored a historical goal where he flew mid-air. It was an impossible goal and it received the FIFA Puskás Award. Van Persie was nicknamed the Flying Dutchman.
Iconic Football Moments #14: Germany Beat Brazil 7-1 in World Cup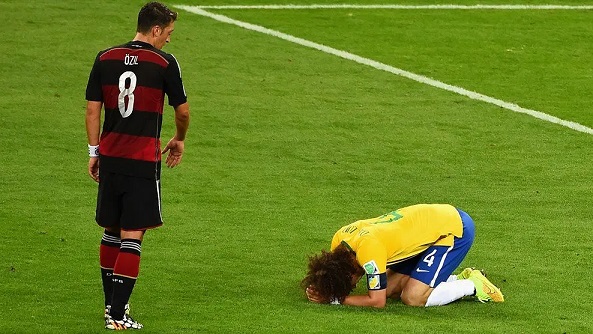 In the semi-finals of World Cup 2014, which took place in Brazil, The German National Football Team destoyed the hosts with a 7-1 win.
This game still haunts every Brazilian.
Germany went on and won the World Cup.
Iconic Football Moments #15: Ronaldinho Invited to Barcelona Team Photo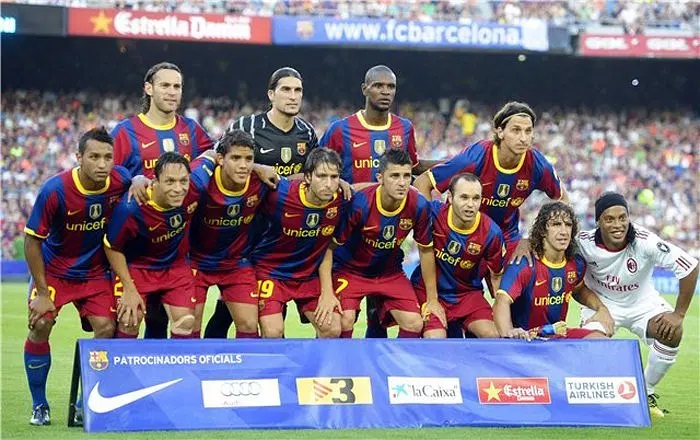 In a true act of sportsmanship, Ronaldinho was invited to take a picture with his ex-teammates at Barcelona prior to a clash between them and Real Madrid, Ronaldinho's new team.
This picture is especially iconic because of the rivalry between the two teams.
Iconic Football Moments #16: Pele and Mohamad Ali Meet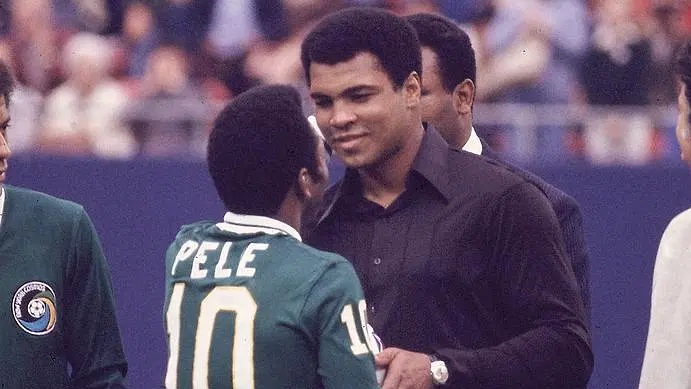 Both were big fans of each other and this picture is the one where legends met.
Iconic Football Moments #17: Arsenal Defender Celebrates Nistelrooy Penalty Miss
This match between Arsenal and Manchester United in Old Trafford was a ferocious game. It ended in a goalless draw and it was important to Arsenal as they finished that season without a single defeat and emerged as Champions. They were nicknamed as The Invincibles.
Ruud van Nistelrooy missed a last-minute penalty that day, which saw Martin Keown (Arsenal Defender) jumping over him in celebration of his penalty miss.
Iconic Football Moments #18: Leicester City Win Premier League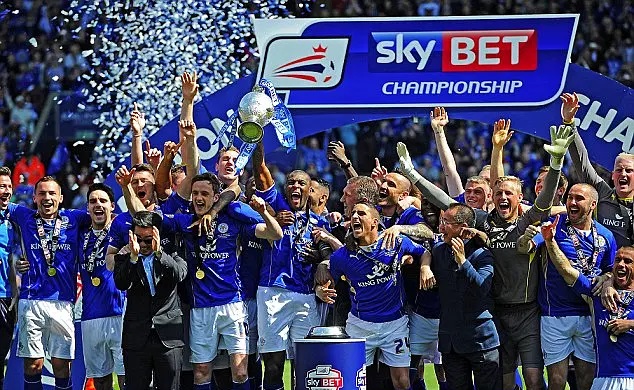 Out of nowhere, underdogs Leicester City won the 2015-2016 Premier League season.
Iconic Football Moments #19: David Beckham Sent Off in World Cup Match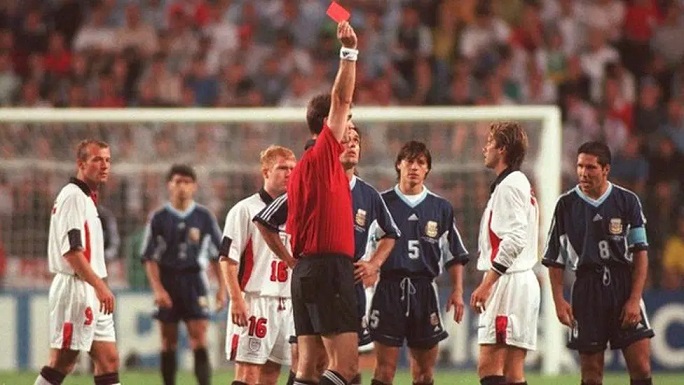 David Beckham was named the "1998 World Cup villain" after he kicked Diego Simeone in a clash between England and Argentina and earned himself a red card.
Iconic Football Moments #20: Messi Cries after Losing The Copa America Final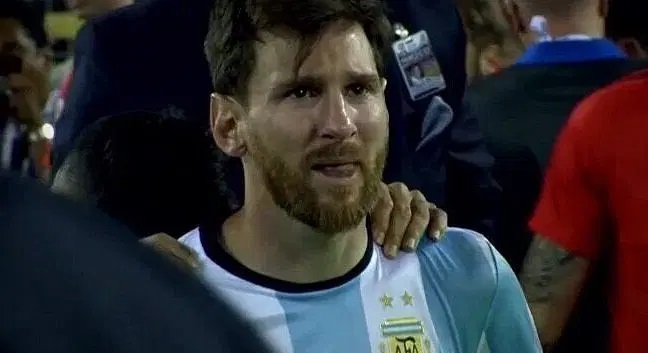 Before he won the 2021 Copa América and the 2022 FIFA World Cup, Messi was shown in tears after losing another final with his country when Argentina lost the Copa America Final to Chile.
Iconic Football Moments #21: Oliver Kahn Consoles Valencia's Goalkeeper After their CL Final Loss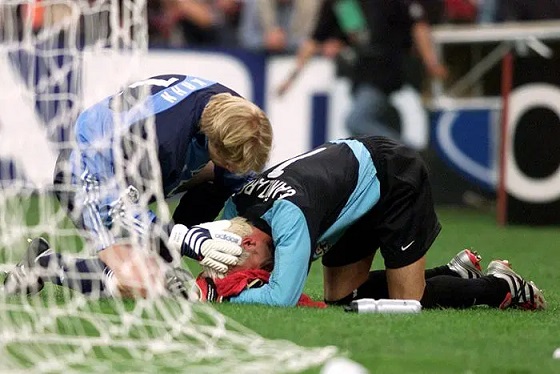 Bayern Munich's Oliver Kahn, widely considered the greatest goalkeeper of all time, consoled opposition keeper Canizares after Valencia's loss to Bayern Munich in the 2001 Champion's League Final.
Iconic Football Moments #22: Aguero's Last Minte Goal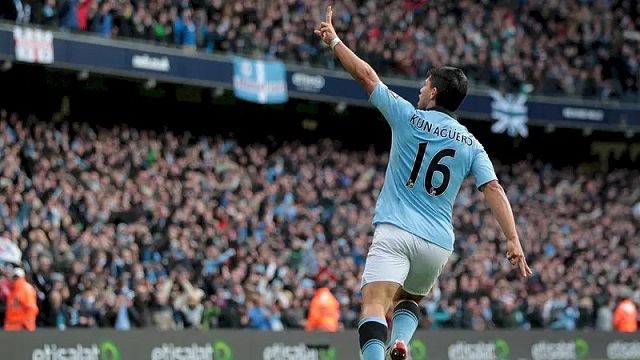 This day still breaks the hearts of Manchester United fans. The race for the title was decided on the last day in the 2012 Premier League season.
Manchester United had secured a win against Sunderland and started celebrating winning the title. Manchester City were tied 2-2 with QPR when Sergio Aguero scored a last-minute goal making it 3-2 for the citizens and securing the title for Manchester City at the very last breath of the Premier League. This is for sure one of the best football matches of all time.
Iconic Football Moments #23: Balotelli's Famous Pose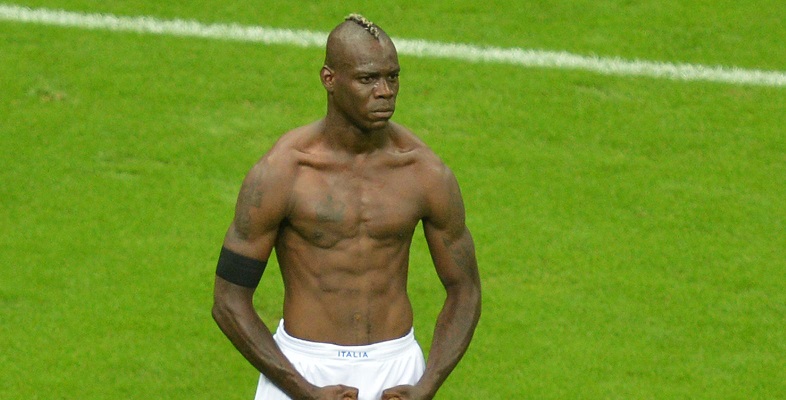 Balotelli's celebration after scoring 2 goals for Italy against Germany in the 2012 Euro Cup Semi-final inspired so many memes.
Iconic Football Moments #24: Beckham's Last Football Match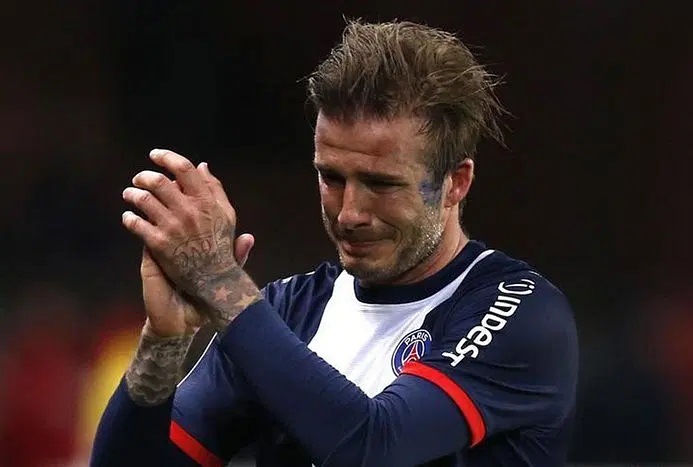 Beckham, football legend, burst into tears in his last match.
Iconic Football Moments #25: Fowler's Cocaine Snort Celebration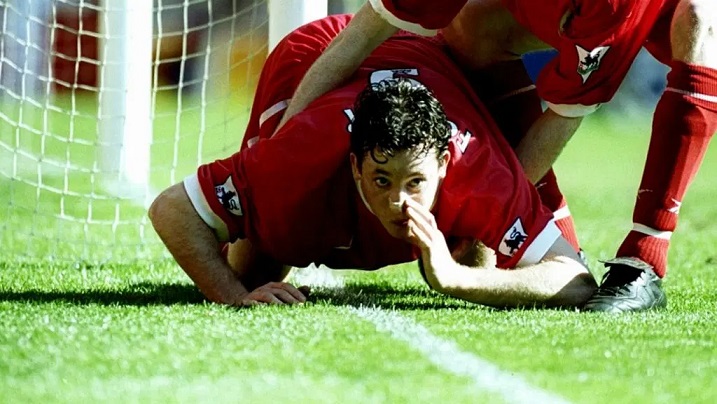 Amid rumors that Fowler was a cocaine addict, he celebrates scoring Liverpool's winning goal against bitter rivals Everton by "Snorting Cocaine". However, he later apologized for his controversial celebration.
Iconic Football Moments #26: England's Controversial World Cup Final Goal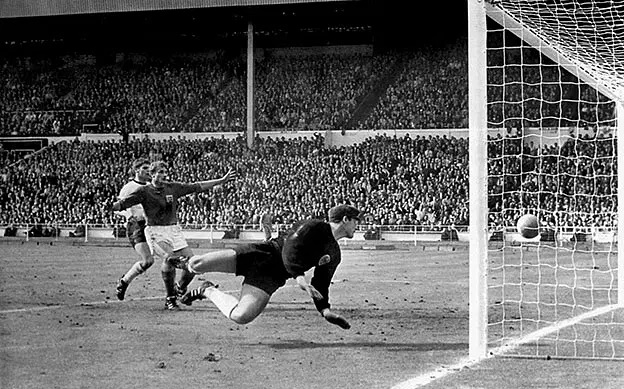 England won their first and only World Cup in 1966. However, their Geoff Hurst's decisive goal against West Germany would have been disallowed had there been the technologies present today. The ball indeed did not enter the goal. This was proven later on.
Iconic Football Moments #27: John Terry's CL Final Penalty Miss
Chelsea were so close to winning the Champions League in 2008, but John Terry's penalty slip denied them that win against their rivals Manchester United.
Iconic Football Moments #28: El Abrazo del Alma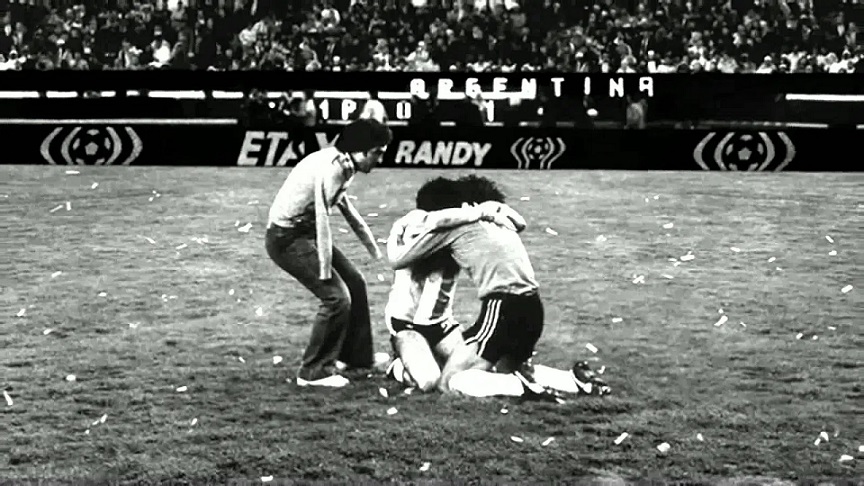 An armless Argentinian fan goes to celebrate with the players following the Argentina's 3-1 win over the Netherlands in the 1978 World Cup final. The celebration was dubbed "El Abrazo del Alma" which means the embrace of the soul.
Iconic Football Moments #29: Iconic Football Moments Messi Wins World Cup
After many heartbreaks, Messi finally win the World Cup with Argentina in 2022 Qatar World Cup.
Before that and before winning the Copa America in 2021, the World Cup was the only thing differentiating between Messi and Argentinian legend Maradona.