Live Koora Online apk For Android Devices
Live Koora Online apk For Android Devices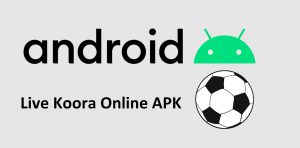 The vast majority of football fans who were unable to watch their favourite team play live or monitor the results of other football matches due to other commitments would absolutely appreciate being able to follow the game results on their mobile phone or tablet because it is much simpler and more convenient to do so.
Live Koora Online APK has been created for that purpose, and using it will not only alleviate all of your difficulties, but also make it possible for you to keep track of all football games taking place at any time and in any location.
Live Koora Online APK: Is the Mobile Version for Android Only?
Android
Let's start with Live Koora Online APK for mobile devices that use Android operating system. It doesn't matter which phone brand you have (Samsung, Huawei, Sony, Xiaomi, Google, Nokia or others brands that use Android) or whichever version it is ( KitKat, Lollipop, Marshmallow, Nougat, Oreo, Pie, Android 10 or Android 11).
you can download Live Koora Online APK and enjoy all the feature the desktop site has to offer. Even though https://livekoora.com desktop site is fully optimized for mobile too, having a standalone app is always more practical. Live Koora Online APK is compatible with Android Devices, so get a hold of your phone and keep up with the latest happenings right in the palm of your hand!
Other Operating Systems
Live Koora Online APK is for Android operating system, however that does not mean that users of IOS, Windows or Linux or others cannot access Live Koora on their mobile phones.
First, as we have stated before, the Live Koora Mobile version is fully optimized for all smartphones and tablets.
Will there be a Standalone app for these operating systems like "Live Koora Online APK"? The short answer is yes, but Live Koora Online APK is the first to be developed, and of course, a Live Koora App is available for IOS users not for Windows and Linux.
Features of Live Koora Online APK
Our Live Koora Online APK will provide you with the following features, in addition to its user-friendly interface, aesthetically pleasing design, and lightning-fast operation:
League Table: Includes team positions, matches played, games lost, games won, tied games, points, goals for, goals against, goal difference, and form.
Previous Games: You can check the results of games played before with detailed statistics in case you wish to analyse the team's form and performance for certain purposes.
Next Games: Check out which opponent your favourite is about to face next!
Live Match Stats: During the game you will find a table including shots on target, shots off target saves, shots from penalty box, shots outside the penalty box, yellow cards, red cards, offsides, corners, goals, passes, pass percentage, ball possession…
Formation: Find out the teams' line-up before the game and which in which formation are they going to play, as well as which players are starting and which players will be on the bench.
Game Events: This feature mostly shows you the incidents happening in the game and at which minute.
Live Koora Online APK Review
When releasing a new app, auditing and monitoring are also crucial components; as a result, we are eager to have your feedback on Live Koora Online APK. Please feel free to share your thoughts in the comments section below.
You may leave us feedback on the App store where you downloaded it from, or you can get in touch with us if you have any concerns or recommendations. We never stop working to enhance the quality of our service and ensure that our viewers are happy with all that we provide.